Your One Stop Shop -The Best Kept Secret Venue
We Are Making It Possible For Ordinary People To Have Big Weddings
It doesn't have to be stressful to arrange a wedding. You should have one of the happiest and most romantic periods of your life right before getting married. Instead, a lot of individuals use this time to hastily plan a wedding, worry about money, and obsess about finding a venue, caterer, event planner, decorator, DJ, officiant, photographer, and florist. At Mariani's Venue, we've taken care of everything so you can focus on your special day. When you reserve Mariani's Venue for your wedding, you will get the full indoor and outdoor space, catering, and a list of the best vendors who have been working here for the past 15 years, so you won't have to worry about finding other suppliers.
Here are some of the benefits of using our venue
Plated Menu

Marinated Grilled Chicken Breast
Marinated Certified Angus Top Sirloin Tip Steaks with sautéed onions.
***Both entrees served with garlic mashed potatoes and String Beans
Salt and Pepper Fillet of Catfish.*** served with coleslaw and French Fries
Vegetarian and Vegan Meals.
Fresh breaded Chicken Tenders and French Fries for the kids.

Beverages

Italian Buffet

Fettuccine Alfredo with Chicken and Vegetable.
Spaghetti and meat sauce.
Chicken parmigiana.
Spaghetti cooked with garlic and fresh on-site grown aromatic Herbs.
Garden Salad.

Beverages

For immediate response to discuss the details, please text Mr.Mariani at cell 301-367-9889 11:00 am – 11:00 pm Sunday-Friday
Please visit our Facebook www.facebook.com/marianivenue to see more recent Wedding pictures and Videos.
Wedding Venue In North Carolina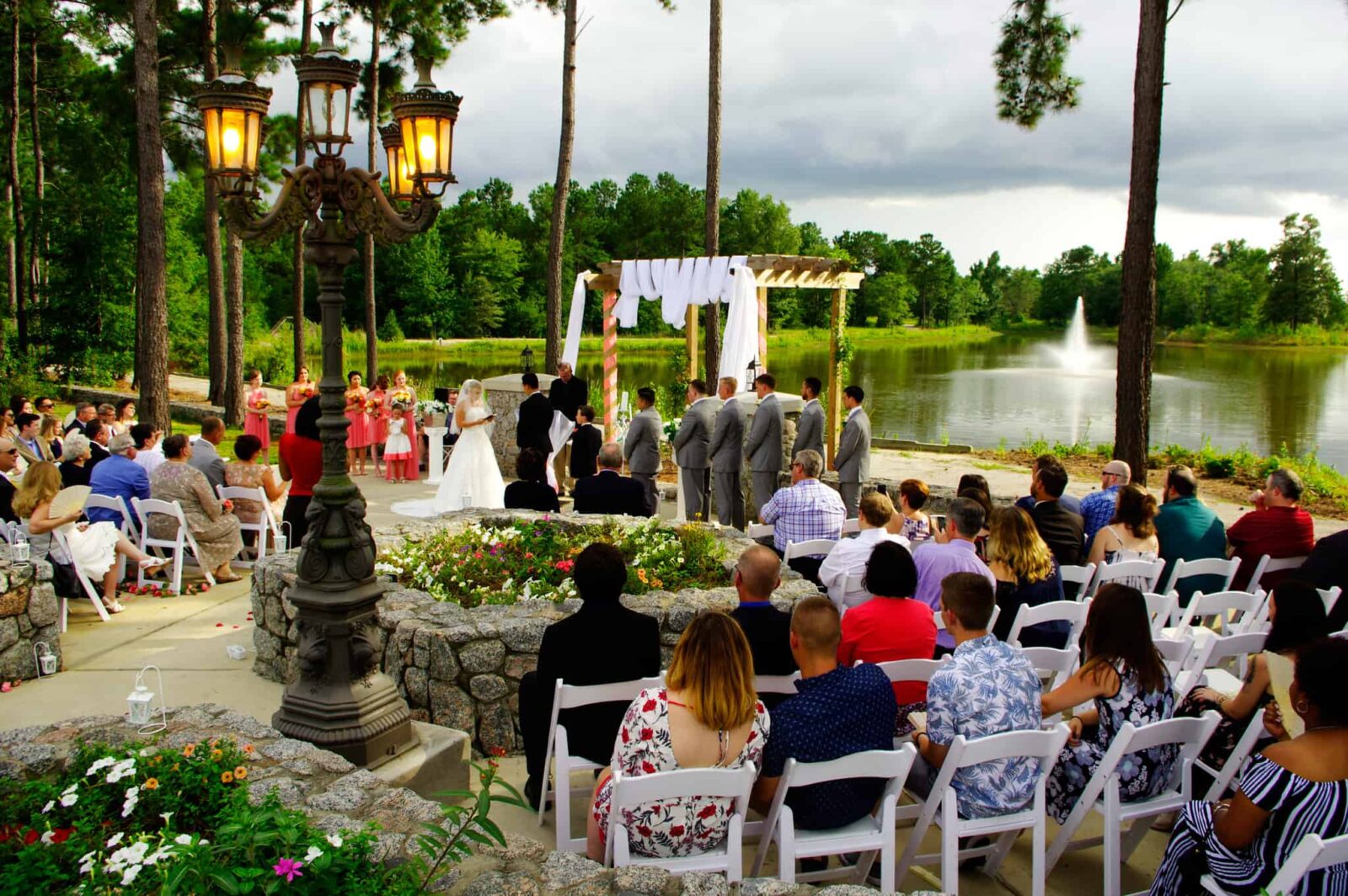 Live your dream wedding at Mariani's Venue
Dive into an enchanting lakeside setting, surrounded by blooming flowers and the gentle sound of waterfalls. Our horseshoe-shaped haven can host up to 350 guests, ensuring every moment is filled with magic and memories. Rain on your big day? No worries! We've got a Plan B ready to roll and included at no extra cost. With balconies overlooking the serene lake and a reception area that oozes charm, you'll find little need for extra decor. Our venue's personality shines bright, making every event unforgettable. Located near Charlotte & Raleigh, Mariani's is the hidden gem you've been searching for. Why settle for the ordinary when you can have the extraordinary?
An experience so many have loved.

Mariani's Venue has 5-star reviews on Google and Facebook from couples and guests who were ecstatic about their experience.